COMMERCIAL SPACES
One size does not fit all for integrated technology systems in a commercial space. Depending on industry and your unique business needs, we create a solution giving you simple control of one or multiple sub-systems with access from centralized, localized or a combination of locations. Smart technology will set you apart and put you a step above in efficiency and the experience of your space. You have the option to start a system in one area or a few areas and expand later whether your project is new construction, remodel or retrofit. Explore the possibilities.
SELF-STORAGE FACILITIES
We help self-storage companies maintain the security of their units with surveillance monitoring systems designed to match the unique needs of their business, with scalable solutions for spaces with 10 units or 1000. Our surveillance systems allow you to monitor the entirety of your property, and we provide regular maintenance and support to ensure that your system is always operational. If one of your cameras goes out, we'll be immediately notified and send a team out to fix the problem before you ever have to worry about it. Our comprehensive, high-quality surveillance systems ensure you're never left in the dark if local files get erased or corrupted. We save your footage to a cloud-based backup server, so you'll always have access to your business' surveillance videos.
COMMON SOLUTIONS
Access Control Systems

Surveillance Systems

Fire & Intrusion Alarms

Vehicular Gate & Operator Systems
BOARDROOM / CONFERENCE ROOM
Don't waste time in meetings trying to get the room technology to launch a presentation. An automation system makes it possible for virtually everything in your office or business to work together, from lights to thermostats, TVs to projectors, audio systems to communication, and much more so your ideas of control can be as unique as your business. A boardroom or conference room stuck in the old century surely can't meet the efficiency, productivity, and elegance of a boardroom integrated with the most up-to-date systems modern technology has to offer. Gather around, and "Get It Done" in class with a single ease-to-use touch device to control the room for multi-media presentations, telepresence or video conferencing.
COMMON SOLUTIONS
Integrated Room Control

Audio / Video

Phone Systems

Video Conferencing

Networking

Lighting Control
RESTAURANT/ BAR
Elevate the dining ambiance and create a memorable experience for your guests with smart technology for audio, video, lights, window treatments, HVAC, and security. From a centralized touch screen, easily deliver entertainment on TVs on different channels and music from multiple sources. Controlling AV in a sports bar or restaurant can be simple for every member of your team. Adjust house lights effortlessly with one press of a button for lunch or dinner, or have lights automatically adjust over time without lifting a finger as your space transitions from day to night. At closing time, it takes one press on a touch screen to power everything down, lock doors, and arm the security system.
COMMON SOLUTIONS
Smart Building Technology

Audio / Video

Lighting Control

Security

Surveillance

Networking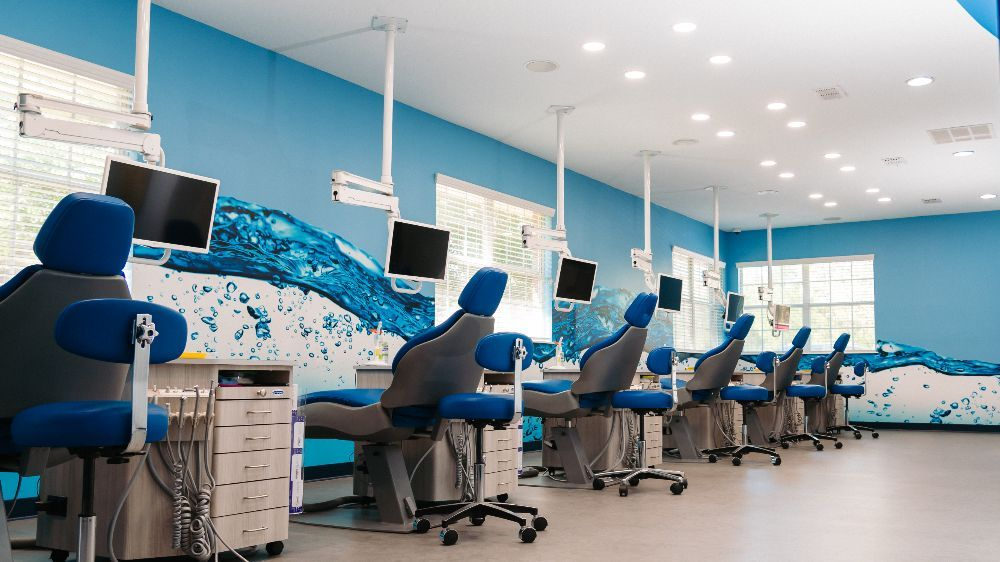 MEDICAL / DENTAL OFFICE
Automate technology in a medical or dental office to save time, create a stress free environment for staff, and enhance patient experience in waiting rooms, procedure and recovery rooms. Increase comfort and reduce energy costs with smart control of lighting, motorized shades, and climate. Enjoy one touch control to adjust lights to a preset based on each procedural requirement. Delight patients with simple control of entertainment during recovery and maintain a soothing atmosphere with music and video easily delivered to waiting areas and bathrooms. Stay in touch with nurses and patients via intercom/paging systems. Create a state-of-the-art simulation lab, training environment, or telemedicine system. Receive security alerts and view cameras after hours from anywhere in the world.
COMMON SOLUTIONS
Integrated Building Technology

Audio / Video

Lighting Control

Climate Control

Intercom / Paging

Surveillance
HOTEL / HOSPITALITY
Automation and integrated technology enhances hotel guest experience and is simply smart hospitality business. Set ambiance in common areas with easy control of lights, window treatments, music, video, and HVAC. Team members can intuitively adjust conference rooms, ballrooms, and restaurants with one button press for meeting, presentation, dancing, dinner and more. Delight guests with a customized room experience of smart lighting control, automated drapes, and impressive entertainment that's easy to use. Guests can play music from their smart phone, access concierge service from the TV, and set a personalized wake up setting of drapes opening and the TV turning to their favorite channel. Hoteliers save energy with lighting and climate automatically turning off after check out or in unoccupied rooms. Monitor usage and schedule maintenance from a centralized touch screen.
COMMON SOLUTIONS
Smart Building Technology

Integrated Building Technology

Audio / Video

Lighting Control

Motorized Window Treatments

Energy Management
RETAIL
Centrally monitor, manage and control architectural and interior lighting, thermostats, security, digital signage and distributed audio and video throughout the store. Lighting plays a big role in retail spaces and intelligent and intuitive control visually enhances displays and merchandising. Managers use an easy-to-use touchscreen or keypad for control and scheduling maintenance based on real-time monitoring. Access security cameras and get alerts if something isn't right, whether in store or on the other side of the world. Distribute content to video displays and digital signage with ease. At opening or closing time it takes just one touch to power everything on/off, arm/disarm security, and set the temperature.
COMMON SOLUTIONS
Integrated Building Technology

Lighting Control

Security

Distributed Audio

Distributed Video

Surveillance
CLASSROOM / AUDITORIUM
Capture Your Audience. Outfit any classroom or auditorium with a state-of-the-art integrated system sure to captivate your audience. Designing a smart approach to systems integration in an auditorium requires expert knowledge of how each system communicates with each other, thorough knowledge of devices and applications, and the best approach to achieving the overall objective for the project. Commonly, auditoriums, lecture halls and classrooms rely on great audio/sound systems, projectors, computer/laptop display modes, screens, wireless connectivity, microphones, lighting control, and more… To communicate effectively from the front of the room, the entire room should be integrated with sufficient technology to support every lecture, presentation, or performance.
COMMON SOLUTIONS
Integrated Building Technology

Audio / Video

Presentation Technology

Interactive Whiteboards

Lighting Control

Acoustics